about this Gypsy research page...
     If ever there were a people born in flame, it is the Roma.  Throughout time they have maintained a rich culture in the midst of adversity and distrust.  As nomads they remain outsiders where ever they are,  in the past they embraced and preserved much folklore and music from the places they passed through.  As other cultures evolved, they remained the keepers of the past, so as an oral society, they retain something that most  civilizations have forgotten. 
     Since 1982, I have been studying Rom history (pre 17 c.).  They have a fascinating culture shrouded in misconsceptions and misdirection.  With the advent of the internet, it is now possible to look across oceans and experience other cultures as never before.   I would like to provide a forum for this.    I will try to post my favorites list (eventually), excerpts from things I have read, pictures, and anything else that I've found thoughout my research.  I welcome any documented submittals from others as well.  
     Anyone who reads this assortment of information should be warned that some of this material may not be considered politically correct by today's standards.  Throughout the ages, the Roma have remained a culture apart from others.  As such, they were/are persecuted all over the world.  Just as history is written by the conqueror, so are many of the references that we piece together.  Since they have always been a mostly oral culture, there are no written accounts by them--only about them-by people who did not understand them.  After reading through only a few books, this becomes very apparent.  They are often romantasized or demonized, and they cleverly used these notions for their own survival throughout the ages.  So if you are new to this, you must take into account who wrote these things, and why, if you want to be fair.  
     The Rom Timeline at the end of this page is a project that won me an award for research- a Thistle- in the Society of Creatuve Anachronism, a long, long time ago.  It's meant to be an ongoing project, but I've fallen behind lately.  What I have though, is an ever-expanding list all the Gypsy sightings throughout history reported (whether disputed or not), along with the name of the book/article where I found it.  So far, there are no websites listed because I did this project  before I had a computer. 
     In the SCA, I have portrayed a Rom persona for over twenty years.  I am known as Lady Kyleena of the Rom and I set up shop as a traveling merchant at events.  It has been very interesting, for even in the portrayal of a persona in the midst of a chivalry oriented society, the stigma of oppression towards these people can still surface.  Ignorance is not bliss, and history is repeating itself every day.  I believe that in this ever-shrinking world, we should learn more about each other, and, though this isn't much, it's a start. 
 
---
---
---
                                          ARTICLE  INDEX 
                                

                                                  1.  Persona 101 
                                        2.  Sites & Favorites
                                        3.   Books Online
        4.   Gypsy Social Organization

                                5.   Gipsy Pride

                                6.   Costuming Through Artistic Rendering

                                7.   The Ancient Method of Cooking

                                8.    More Pictures

                                9.     Kipling Poem Excerpt

                               10.    More Pictures 

 

                                11.   Gipsy Stories and Fables

                               12.   And yet more pix

                                       13.   Rom Timeline

                               14.   Timeline Sources 
                                                 15.   The World's Oldest Dance: 
                                               The Origins of Oriental Dance
                                             (Belly Dance--includes previous article 'Dances in Spain')

                Links & formats were last checked & verified on Aug 18, 2010. 
                       
---
---
by L. Kyleena of the Ansteorran Rom
So, you've joined the Society for Creative Anachronisms and you're trying to figure out why everybody Gets all dressed up with nowhere to go.  Well, you're in the right place. 
The following is a direct quote from the SCA website:
Atmosphere
Each member creates a "persona," a personal character from a specific timeand place, which the member becomes for events. The goal is to create someone who "might have been" rather than to pretend to be an actual historical figure. The persona is a jumping-off point for research into that time period and place—what the person would have worn, eaten, etc.
Our areas of interest are as varied as was medieval culture: heraldry, knighthood, manuscript illumination and calligraphy, archery, armor making, costuming, jewelry making, needlework and sewing, theater, poetry, dancing, singing, cooking, brewing, equestrian arts, and more…
The SCA also attempts to create an atmosphere embodying those lost ideals that are found in medieval romance: chivalry, honor, and courtesy. Our goal is to re-create the Middle Ages as they should have been, without the strife and pestilence, but with an attempt to preserve the ideals of beauty, grace, chivalry, and fellowship.
Activities

The events we put on are participatory, rather than shows put on for spectators. Instead of putting on a performance for the public, we strive to learn and live in what we call the "current" Middle Ages.--excerpt from SCA  PDF  DOCUMENT what is the SCA?   http://www.sca.org/docs/for-siteowners.pdf
PERSONA BENEFITS:  persona play creates atmosphere, brings history to life,  draws attention to our organization, and  allows everyone a chance to start unfettered by mundane limitations. 
                                                                                  
PERSONAL PITFALLS:  if not done right, can encourage prejudice and restrict options. Therefore it is important to understand the purpose of persona play within the SCA.                  
To help generate your persona, I recommend  the following:
Costumes  many people choose persona by what they would be comfortable wearing, or look best in and then research backwards.
Timelines quickly helps to pin down the parameters of your world. It also  provides additional names and events  for additional research.
Period  Maps to learn period names of the country you lived in, and what the geography was like…where cities were located….
Folk Tales tell you current morals, and illustrate aspects of normal life
Past times/Games  tell you about what people did in their leisure hours and allows you an opportunity to meet others and small talk of the "good 'ol days"                   
Names can be found everywhere during research
Creating a persona is much like developing a character for a book.

 

It is good figure out as much about your alter ego as you can, but start by deciding what you, personally, want to do.

 

Here we all start with a clean slate.

 

Your mundane career, education, wealth no longer define you—a mundane sanitation worker can become king.

 
Feel free to try new things here.

 

We are a teaching & learning society and we love to share all the cool things we've found. So, do not be afraid to approach others with your questions, especially those among us who have gained rank.

 

They started out just like you did….
WHO are you ?
WHAT do you want to do?
WHERE do you live?
WHEN do you live?
WHY are you here?
Though it is always fun to develop an elaborate back story, the best way to deliver it is in small portions.  Just like in writing, the rule is 'show, don't tell.'  Work in bits and pieces; axioms, remembrances, references.  Bring it to life as if it were real.  OR simply exude the character  and attitude of the people/nation/profession that you have chosen. In the end, life is the adventure you make it.
 

ONLINE RESOURCES:
           
           NAMES:  http://www.s-gabriel.org/
            
              SHORT LIST OF COMPLEAT ANACHRONIST ISSUES REPRINTED 
           ONLINE:
                                    http//www:pbm.com/~lindahl/ca.index.html
             THE COSTUMER'S MANIFESTO
:                                      http://www.costumes.org/ethnic/1PAGES/ETHNOLNK.HTM    
                                                                                                                                                                         
            THE HISTORY OF COSTUME by Braun & Schneider:                                                                         http://www.siue.edu/COSTUMES/TEXT_INDEX.HTML                                     
               MONUMENTAL BRASS SOCIETY, PICTURE LIBRARY:
                                     http://www.mbs-brasses.co.uk/pic_lib/picture_library.htm
                HISTORY OF GAMES TIMELINE: http://www.celticgames.com/gamestimeline.html
                ANCIENT ATLAS-MAPS AND GEOGRAPHY:                
                                       http://ancienthistory.about.com/od/maps/ss/mapsindex.htm    
                HYPERHISTORY ONLINE: 
                                        http://www.hyperhistory.com/online_n2/History_n2/a.html 
 
                 MYTHOLOGY:   http://www.greatdreams.com/myth.htm
                
                 ARTS AND SCIENCES OF THE MIDDLE AGES AND RENAISSANCE:                                          http://www.pbm.com/~lindahl/arts_and_sciences.html
                 STEFAN'S FLORILEGIUM  ARCHIVES:
---
---
---
Patrin:Roman culture & history                http://www.geocities.com/Paris/5121/
Patrin Timeline                                  http://www.geocities.com/Paris/5121/timeline.htm
Romani (Gypsy) Names                          http://www.s-gabriel.org/names/arval/romany/
Early 14c Byzantine names of Macedonia         http://www.maridonna.com/onomastics/macedonia.htm 
SCA Gypsy research site                        http://groups.yahoo.com/group/SCA_Gypsy/ 
                                                                                      
---
---
---
Originally when I joined this Egroup, I started a quest through the archives to list informational entries. I barely scratch the surface here, but I compiled this list of subjects that might be informational.

(go to site, click on  'messages' and enter into message nbr box. Seems that 'home,'messages, and links' are available without joining the egroup.  I'm not sure, but I recommend it. It is a general mail-list for use of all Gypsy clans throughout the SCA and is geared for studies pre1700's.)
Learn Romani lessons 3199-3202 (see also: 3220, 3275, 4236, 4379, 7214-7221),  80 language English rom   3139 definition: Rom
Persona: 3571 persona   3567 persona play   3178 persona   106 persona   3174 native american
Garb:  122 garb   107 movie persona garb   3323 costume   3326 pants   3382 Russian costume site 
3291 diklo  100 henna mehndi   102 henna mehndi   109 movie and mehndi   43 garb   46 garb   64 garb   83 garb sites


Bender tent:  3180 bender tent      42 bender tents
Wagons: 3229 wagon-movie   3230 wagon   3234 wagon-book-site   3242 wagon   3258 book-wagon    3246 wagons   3273 vardo   449 vardo pix   3247 colors


BOOKS:  194 tinkers book   195 tinkers book   3243 book list   3267 book  73 book      60 book religion
    77 books and wagons   3152 The Gypsy Cookbook


SITES: 3824-shop site   3592 site-paint wheel   108 site links   168 dance sites   171 A&S search site   204 gypsy sites    241 gypsy dancer site    3141 site-links    3143 site-sewing    3150 UK site    3176 central am. Site   3235 amazon-uk site    3240 sites    3363 gypsy website   3315 music & history sites   3424 history site   3592 site-painted wheel tribe    3824-shop site     458 name site   453 renfaire rom web site     478 url patrin site

VIDEO: 3461 video   3487 video-curse of gypsy   110 movie

PREJUDICE:  3411 'Nail throwing" devils advocate  3415 prejudice   3426 prejudice   3212 prejudice


NAMES:   460 names   464 names
 
CULTURE:  4201 death customs    4210 occupations    3471 music
---
---
---

The Jew The Gypsy and El Islam

By the late Captain   SIR RICHARD F. BURTON
Edited with a Preface and Brief Notes by W. H. WILKINS
Notes on this Edition
This book is an exact transcription of the collection "The Jew, the
Gypsy and El Islam" (Chicago & New York: Herbert S. Stone,
1898). This volume was also published by Scribner's in 1898.
The Stone edition collates the same as the first English edition
(London: Hutchinson & Co., 1898). — Scanner / Editor "JR"
June 12, 2000
PREFACE
The Gypsy has a far less eventful history (than the segment about The Jew), though the materials for its making were collected during a period of over thirty years, and were gathered for the most part by personal research, in Asia mainly, and also in Africa, South America, and Europe. Burton's interest in the Gypsies was lifelong; and when he was a lieutenant in the Bombay Army and quartered in Sindh, he began his investigations concerning the affinity between the Jats and the Gypsies. During his many travels in different parts of the world, whenever he had the opportunity he collected fresh materials with a view to putting them together some day. In 1875 his controversy with Bataillard provoked him into compiling his
[p. xii]

long-contemplated work on the Gypsies. Unfortunately other interests intervened, and the work was never completed. It was one of the many unfinished things Burton intended to complete when he should have quitted the Consular Service. He hoped, for instance, to make fuller inquiries concerning the Gypsies in France, Germany, and other countries of Europe, and especially he intended to write a chapter on the Gypsies in England on his return home. Even as it stands, however, The Gypsy is a valuable addition to ethnology; for apart from Burton's rare knowledge of strange peoples and tongues, his connexion with the Gypsies lends to the subject a unique interest. There is no doubt that he was affiliated to this strange people by nature, if not by descent. To quote from the Gypsy Lore Journal 1:
"Whether there may not be also a tinge of Arab, or perhaps of Gypsy blood in Burton's race, is a point which is perhaps open to question. For the latter suspicion an excuse may be found in the incurable restlessness which has beset him since his infancy, a restlessness which has effectually prevented him from ever settling long in any one place, and in the singular idiosyncrasy  which his friends have
                                                 1 January, 1891.
[p. xiii]
often remarked—the peculiarity of his eyes. 'When it (the eye) looks at you,' said one who knows him well, 'it looks through you, and then, glazing over, seems to see something behind you. Richard Burton is the only man (not a Gypsy) with that peculiarity, and he shares with them the same horror of a corpse, death-bed scenes, and graveyards, though caring little for his own
life.' When to this remarkable fact be added the scarcely less interesting detail that 'Burton' is one of the half-dozen distinctively Romany names, it is evident that the suspicion of Sir Richard Burton having a drop of Gypsy blood in his descent—crossed and commingled though it be with an English, Scottish, French, and Irish strain is not altogether unreasonable."
On this subject Lady Burton also wrote:
"In the January number of the Gypsy Lore Journal a passage is quoted from 'a short sketch of the career' of my husband (a little black pamphlet) which half suspects a remote drop of Gypsy blood in him. There is no proof that this was ever the case; but there is no question that he showed many of their peculiarities in appearance, disposition, and speech—speaking Romany like themselves. Nor did we ever enter a Gypsy camp without their claiming him 'What are you doing with a black coat on?'
[p. xiv]
they would say 'why don't you join us and be our King?'"1
Whether the affinity was one of blood or of nature does not greatly matter; in either case it lends a special interest to Burton's study of the gypsy….
-- W. H. WILKINS
---
To download this book in eBook, go to:
   http://www.jrbooksonline.com/jgei.htm
---
---
---
                              PROJECT  GUTENBERG
To access Project Gutenberg etexts, use any Web browser to view http://promo.net/pg . This site lists Etexts by author and by title, and includes information about how to get involved with Project Gutenberg.
There are over 20,000 free books in the Project Gutenberg Online Book Catalog.
A grand total of over 100,000 titles is available at Project Gutenberg Partners, Affiliates and Resources.
If you don't live in the United States, please check the copyright laws of your country before downloading or redistributing a book.
I entered 'Gypsy' into their search box.  This is what I got there are probably more:
Etext-No.

Author

Title

Language

452

 

Birrell, Augustine, 1850-1933 [Commentator]


Borrow, George Henry, 1803-1881

 

 

 

English

 

20198

 

Borrow, George Henry, 1803-1881

 

Lavengro
the Scholar - the Gypsy - the Priest

 

 

English

2733

 

 

Borrow, George Henry, 1803-1881

 

Romano Lavo-Lil: word book of the Romany; or, English Gypsy language

 

English

 

18582

 

English

18646

 

English

565

 

Borrow, George Henry, 1803-1881 

The Zincali: an account of the gypsies of Spain

 

 

English
---
---
---
The Pariah Syndrome:

An account of Gypsy slavery and persecution

by Ian Hancock
Available to read online or to down load in ASCII format @
http://www.geocities.com/Paris/5121/pariah-contents.htm

*   *   *  
…and while you're there, definitely check out:

 Patrin Web Journal: Romani Culture and History.
 Patrin is a learning resource and information centre about Romani culture, social issues, and current events.
---
---
---
Gypsy Social Organization
       The Rom are unique among nomadic groups still  adhering strictly to archaic tribal allegiances, in that their nomadism is on a worldwide scale...The true Gypsy is a member of a distinct ethnic group, sharing a basically common language and particular ways of behavior...The tribes are divided into witzas, or groups descended from a common ancestor, after whom the subtribe is named.  For practical purposes, the Gypsies band together in Kumpanias, which form and disband according to changing patterns of interest or circumstances.  These temporary relationships are ruled by contractual laws.  The kumpania is led by a Rom Baro, or Capo, usually a man in his prime.  He is chosen for his knowledge of the ways of life and the language of the countries through which the Rom travel, or intend to travel, as well as for his resourcefulness in dealing with emergencies and for his willingness to lead.  His functions give him no special prerogatives, and his only remuneration is the honor he derives from his position.  There also exists a more visible form of "authority,"the so-called kings, or vaivodes, who are essentially figureheads and serve as liaison with the Gaje.
       Above and beyond the kumpania there is the traditional authority of the kris, or intertribal court of justice.  The kris convenes at irregular intervals and as need requires.  Because of the inevitable circumstances of nomadic life, the selection of the krisatora, or judges, may depend on what ever qualified men are available at  a given time.   Most of the sentences imposed by the kris are fines to be paid in food and drink to all those tribesmen attending the kris.  The kris can also impose temporary banishment on any member found to suffer an infectious disease; his household may also be banished.  Proof of medical cure ends the banishment.
       The effectiveness of the pronouncements of the kris depends essentially on the acceptance of its decisions by the majority of the Rom.  This acceptance, in turn , depends on belief in the solakh ("solemn oath") and enforcement by the mule, the ancestor spirits....
--Encyclopaedia Americana  (retrieved around 1981)
---
---
---
What were their forefathers a few generations ago?    the  Highlanders a nest  of marauding thieves, and the Borders little better.  Or society at the present day - what is it but a compound of deceit and hypocrisy?  People say that the Gipsies steal.  True; some o f them steal chickens, vegetables, and such things;  but what is that compared to the robbery of widows and orphans, the lying and cheating of traders, the swindling, the robberies the murders, the ignorance, the squalor, and the debaucheries of so many of the white race:  What are all these compared to the simple vice of the Gipsies:  What is the ancestry they boast of , compared, in point of antiquity, to ours:  People may despise the Gipsies, but they  certainly despise all others not of their own race: the veriest beggar Gipsy, without shoes to his feet, considers himself better than the queen that sits upon the throne.  People say that Gipsies are blackguards.  Well, if some of them are blackguards, they are at least illustrious blackguards descent, and so if fact; for thy never rob each other, and far less do they rob or ruin those of their own family."
     —Walter Simson  p.11 
THE HISTORY OF THE GYPSIES
     DX 115 S5 1878

Costuming ThroughArtistic Renderings
 Though gypsy research material can sometimes be hard to find, don't over look the fact that  artists have always existed .  And what do aritists do?  As an artist friend of mine told and draw and
sculpt  what they see."  Throughout history many artist have become enamoured with the Gypsies.  One such person that she mentioned was Jacques Callot  who as a boy of fourteen or fifteen  ran away from  home (his father was a french  nobleman)  with the Gypsies.  And, what do you know....I had some of his pictures in my files already....    L. Kyleena
me,"Artists paint."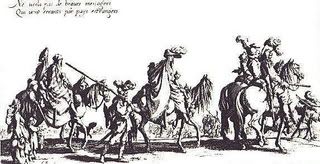 Jacques Callot engravings:  Gypsies on the move,   Gypsy camp      1622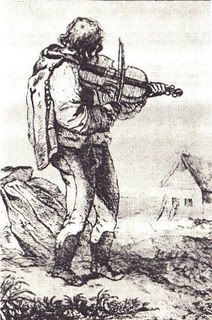 J. Martin Stock engravings:
  Transylvanian Gypsies
playing violin & cimbalom
1776
Tournai tapestry: 1490
   I        I found the Callot pictures in a book of his art.  The tapestry
            above was located through an online search for Tournai
            tapestries. 
             The J. Martin Stock engravings and the picture to the right
             were both retrieved from my favorite Gypsy book:
             THE GYPSIES by Angus Fraser.
           This portrait "forms a part of a 16c collection of  sketches in
            Art as in northern France and bears the caption...
            'the Egyptian woman who by medical art restored health to
            the  King of Scotland, given up by the physicians'."  Frazes 
            speculates the King to be either James IV or James V.  
            "James V...was absent for 8 1/2 months from Scotland in
            France(1536-7).  Some such incedent would help to explain
            the royal favour shown to Gypsies in
                 Scotland at a time when most othemonarchs were becoming decidedly less tolerant of them." -           p 119-120  
---
---
---
The Ancient Method of Cooking
But the ancient method of cooking practiced among the Scottish Gipsies, and which, in all probability, they brought with them, when they arrived in Europe, upwards of four hundred years ago, is, if I am not mistaken, new to the world never having as yet, that I am aware of, been described.*  It is very curious, and extremely primitive, and appears to be of the highest antiquity.  It is admirably adapted to the wants of a rude and barbarous people, travelling over a wild and thinly-inhabited country, in which cooking utensils could not be procured, or conveniently carried with them.  My facts are from the Gipsies themselves, and are corroborated by people, not of the tribe, who have witnessed some of their cooking operations.
The Gipsies, on such occasions, make use of neither pot, pan, spit, nor oven, in cooking fowls.  They twist a strong rope of straw, which they wind very tightly around the fowl, just as it is killed, with the whole of its feathers on, and its entrails untouched.  It is then covered with hot peat ashes, and a slow fire is kept up around and about the ashes, till the fowl is sufficiently done.  When taken out from beneath the fire, it is stripped of its hull, or shell of half-burned straw-rope and feathers, and presents a very fine appearance.  Those who have tasted poultry, cooked by the Gipsies, in this manner, say that it is very palatable and good.  In this invisible way, these ingenious people could cook stolen poultry, at the very moment, and in the very place, that a search was going on for the pilfered article.
The art of cooking butcher-meat among the Gipsies is similar to that of making ready fowls, except that linen and clay are substituted for feathers and straw.  The piece of flesh to be cooked is first carefully wrapped up in a covering of cloth or linen rags, and covered over with well wrought clay, and either frequently turned before a strong fire, or covered over with hot ashes, till it is roasted, or rather stewed.  The covering or crust, of the shape of the article enclosed, and hard with the fire, is broken, and the meat separated from its inner covering of burned rags which, with the juice of the meat, are reduced to a thick sauce or gravy.  Sometimes a little vinegar is poured upon the meat..  The tribe are high in their praise of flesh cooked in this manner, declaring that it has a particularly fine flavour.  These singular people, I am informed also boiled the flesh of sheep in the skins of the animals, like the Scottish soldiers in their wars with the English nation, when their camp-kettles were nothing but the hides of the oxen, suspended from poles, driven into the ground.
The only mode of cooking butcher-meat, bearing any resemblance to that of the Gipsies, is practised by some of the tribes of South America, who wrap flesh in leaves, and,covering it over with clay, cook it like the Gipsies.  Some of the Indians of North America roast deer of a small size in their skins, among hot ashes.  An individual of great respectability, who had tasted venison cooked in tis fashion, said that it was extremely juicy, and finely flavoured...It is probable that the Gipsy art of cooking would be amongst the first modes of making ready animal food, in the first stage of human society, in Asia-the cradle of the human race....
 *I published the part of the Gipsy method...in the Fife Herald,of the 18th greater April 1833. 
                                                          -Walter Simson    p.232-233
                                                                         THE HISTORY OF THE GIPSIES   DX 115 S5 1878
---
---
---
(special note: if slide show does not operate correctly, you may need to allow pop-up blocker and/or enable Activex because pix are being recognized as pop-ups.
After this, if slide show is not visible, use cursor to locate box and click.  If this does not work, refreshing the page may help. This is my first attempt at using photobucket, so I welcome ur comments on the contact page.  Thanks)
Slide show...sources include:
Journal of the Gypsy Lore Society vol II,--IVTHE FORMER COSTUME OF THE GYPSIES
                      by Henry Thomas Crofton
Cuadernos hispanoamericanos,--EL TRAJE ANTIQUO DE LOS GITANOS: ALTERIDAD Y CASTIGO (Iconografia de los siglos XV-XVIII) by Margarita Torrione
 Belly Dance Museum http://www.belly-dance.org/index.html (Gypsy Dancer Gaasbeek goelin carpet & Tchingui or      Tsjengi--Ottoma Turkey)
---
---
---
            Unless you carry the gipsy eyes that see but seldom weep,
keep your head from the naked skies or the stars'll trouble your sleep. Watch  your moon through your window-pane and take what weather she brews;  but don't run out in the midnight rain nor home in the morning dews.
Then you can huddle and shut your eyes as the gipsy vans come through...for it isn't fitting the Gorgio ryes should walk as the Romany do.
  --Rudyard Kipling   
---
---
---
     - - -excerpts from THE ENGLISH GIPSIES & THEIR LANGUAGE
                                                  by Charles G.  Leland
    ( downloadable online at Gutenburg press:  http://www.gutenberg.org/etext/16358 )
THE GIPSY AND THE SNAKE:     If you kill the first snake you see, you'll kill the first (principal) enemy you have.  That is what they say, but I don't know whether it is true or not.  And once there was a very bad man who was always doing bad deeds.  And one day he saw a snake in the forest and ran after it with a great knife in his hand and cut her head off.  And then he said to himself,  "Now that I've killed the snake,  I'll take the life of my most vindictive (literally, most venomous) enemy."  And just as he spoke that word he struck his foot against the roots of a tree, and fell down and drove the knife into his own body (liver or heart).  And as he lay dying in the forests, he said to himself,  "Yes I see now that It is true what they told me as to killing a snake; for I never had any worse enemy than I have been to myself, and what comes of killing innocent animals is naught good."
THE GIRL WHO STOLE AN EGG:     Once, many hundred years ago (to-day now),  a girl was going to steal and egg.  "Let me be," said the egg,  "and I will show you where you can get a duck."  So the girl got the duck, and it said (told) to her,  "Let me go and I will show you where you can get a goose"  (large hen).  Then she stole the goose, and it cried out,  "Let me go and I'll show you where you can steal a turkey"  (lady-bird).  And when she took the turkey, it said, "Let me go and I'll show you where you can get a calf."  So she got the calf, and it bawled and wept, and cried,  "Let me go and I'll show you where t get a fine horse."  And when she got the horse , it said, "Let me go and I'll show you where you can find a handsome , rich gentleman who wants a sweetheart."  So she got the nice young gentleman, and lived with him pleasantly one week;  but then he told her to go away, he did not want her any more.  "What a bad man you are,"  wept the girl,  "to send me away!  For your sake I gave away an egg, a duck, a goose, a turkey, a calf, and a fine horse."   "Is that true?" asked the youth.  "By my dead father!"  swore the girl,  "I gave them all up for you, one after the other, and now you send me away!"  "So help me God!" said the gentleman, "if you lost so many things for me, I'll marry you."  So they were married.
      Yes, there are false truths and true lies.  You may kiss the book on that.
OF THE GIRL THAT WAS TO MARRY THE DEVIL:     On a  day a Gipsy  mother told a girl's fortune, and said to her that a dark (black) gentleman loved her.  But when the woman demanded her money, the girl said,   "Old mother, I haven't got a halfpenny to give you.  But tell me the name of the dark gentleman."  Then the mother roared out, very angry,  "Devil is the name of your sweetheart, and he is black enough."
              If you cheat old women you will catch the devil.
OF THE GIPSY WOMAN AND THE CHILD:    Once a woman went into a strange land, and she carried a bag on her back with a pig in it.  A girl who was ashamed of her child stole the pig from the bag and put the baby in (its place).  After an hour the woman heard the child cry, and looked into the bag with great amazement, and said,  "If the pigs in this country change into children , into what do the children change?"
In this book, Leland provides each story in the gipsy language before each translation.

---
---

 R O M    T I M E L I N E
compiled by Mary Andrews / Kyleena
---
                                                                        BC
---
 350-1200 BC  Exodus of Moses
485-465 BC   Xerxes I conquests. His sudden retreat from the area of India                        may have left Egyptians or Gypsies" behind.  GLSJ   (vol 3 p227) 
420 BC          The great Persian poet Ferdowsi, in 1011, in his Shah Namah
                     (book of kings) refers to 10,000 Luri musicians imported from India by
                     Bahram Gour in 420  BC    jy
 327 BC          Alexander invades India, he may have brought Gypsies to Macedonia
                      as artisans and metal workers for his army
---
                                                         800  AD 

---
800AD       It appears certain that the gypsies traveled to the Middle East because
                 their language contains traces of Persian, Kurdish, and Armenian. Some
                 evidence exists that this migration took place around this time, possibly
                 the scarcity of food and the hostility of the local nomadic tribes forced
                 the gypsies onward...probably as small scattered bands.  jbm p2

 

 855?AD    Gypsies in Byzantium.     Jpc 
---
                                 900
---
900-1100

  
The bold horse-riding Jats, an Aryan race expelled in the course of 
                   religious wars that 
chronically 
raked India...mingled with other low-
                   caste wanderers:the Nats,
singers and acrobats; and the Dom
                  
apparently a pre-Aryan people still found in
India....

 
cgl

  

pviii
---
1000

---
1000

        
Gypsy bands begin westward movement from
India.

  
ngs

  

(p16-17
) 
                 Experts find Romani DNA in an 11th c Norwich Anglo Saxon Skeleton 
                 (a young adult male). 
 http://www.24hourmuseum.org.uk/nwh_gfx_en/ART37392.html
---
1100
---
1100

        
Europe's earliest record describing people who sound like Gypsies
                 appears in writings 
of a monk at Mount Athos, Greece. 
                 http://www.24hourmuseum.org.uk/nwh_gfx_en/ART37392.html ngs p16-17

 
                (In
The Life Of George Mtharsmindel of 
Mount Athos,
written 
mid-11th
                 c., there is  mention of Asincan people who we described
as 
well
                 known magicians 
and rogues.)

  
Jf
---
1200                                                     
---
1260 ( 1399)

    

Gypsies in Bohemia 

http://www.24hourmuseum.org.uk/nwh_gfx_en/ART37392.html
---
1300
---
 1322         Gypsies in Crete.  jpc  ngs
 
                 Simon Simeonis describes similar people living in Crete.  Jf  
        
                 A priest of Cologne describes a people he refers to as Mandapolos,
                 who had a unique language.  (note that the name Mandapolos is
                 possible a corruption of the Greek word Mantipolos, meaning
                 fortune teller.)   Jf 
 1346         Gypsies in Corfu.   jpc ngs 
1378         Tsar Ivan Shishman gave the Rila Monastery a number of villages in
                which some Agoupti (or Gupti) Gypsies lived. These villagers were
                among the firstGypsy groupsto settle in Bulgary...Turks divided the 
                Gypsies     into nomadic Moslems and settled Christians,.
                .some Gypsies converted to Islam to raise their status.   dmc p2   
1348         Gypsies in Serbia.pc, Yugoslavia .  ngs 
1350         Ludolphus of Sudheim also mentions the Mandapolos.  jf 
1370        Gypies in Walachia.  ngs  (p16-17) 
1378        Gypsies in the Pelopennese,Zagreb    jpc 
1384        Forty families were documented as living at the foot of the Carpathians
               who were ca  Acigani vel Cygani.(Polish gypsies are called "Cygan")    jf 
1386       The feudum Acinganorum are said to live on Corfu.(this word is the 
               prototype of the German Qigiuner, the Italian Zingaro,   and the French
              Tsigane, Polish Cygan.)
---
                                       1400
---
1407       Gypsies first appearance in Germany, in Hildesheim.   1 

 

 

  1413-1481 The Expansion of Turkish power in the Balkans during this period saw a
                 wave of Gypsymigration into the region...Bulgarian  references to the Gypsies began  to emerge.dmc   (p2) 

1414       Gypsies in Basle.    jpc

               Second possible appearance in Germany, in Hesse.   2 

1415       Gypsies in Chechoslovakia and   Hungary.   ngs 

1416       First anti-Gypsy law issued in Germany.48 such laws are passed between 
             this date and 1774.  4

               The acigani vel Cygani were noted in Bohemia. Also a chronicler
                described a mcalle Emaus from  Egypt, who appeared at Kronstadt  
                Transylvania together with 220 followers.  jf  

1417        Gypsies in Transylvania, Moldavia, The Elbe.   jpc

                August 30, the Gypsies reached Zurich, Magdeburg and Lubeck.    jf

1417        a band of 'Secani' or Tsigans, 300 in number, besides children and
               infants,  arrived in  Germany  'from Eastern parts' or 'from Tartary.'  
               Their presence is first recorded atLuneburg; and thence they passed on
                to Hamburg, Lubeck,Wismar,Rostock, Stralsund, and Greifswald. At their
                head rode a duke and a count, richly dressed, with silver belts, 
                and leading like nobles dogs of chase; next came a motley crew
               afoot; and women and children brought up the rear in wagons.

                They bore letters of  safe-conduct from princes, one of which from the
                Emperor Sigismund they had probably  procured that same year at
                Lindau on Lake Constance; and they gave out that they whereon a
                seven years' pilgrimage, imposed by their own bishops as a penance for
                apostasy from  the Christian faith.They encamped in the fields by night
                outside the city walls, and were great thieves, esp.the women,
                'wherefore several were taken and slain.' 

1418        Arrival documented in Hamburg.  5 

                Gypsies in Saxony, Augsburg.    jpc 

                "Poor people from Little Egypt" came to Strasbourg and Frankfurt.  jf  
    ...they are heard of at Leipqig, at Frankfort-on-Main, and in Switzerland at
Qurich, Basel, Berne, and Soliure:the contemporary Swiss chronicler, Conrad Justinger, speaks of them as 'more than two hundred baptized Heathens from Egypt, pitiful, black, miserable, and rable on account of their thefts, for they stole all they could.' At Augsburg they  passed for exiles from  'Lesser Egypt'....   FHG
1419   Arrival documented in Augsburg. 6  Oct.1, at Sisteron in Provence, on Nov. 1
         at Augsburg. jf

         at Macon in Aug they practiced palmistry and necromancy; and at Sisteron
         in Provence as 'Saracens' they got large rations from the terrified townsfolk.
         FHG
 1420 ?  Gypsies in Denmark.  jpc 
 
              "Master Andreas, the Prince of Little Egypt" came to Deventer in Holland
              with his followers and 40 horses. jf
              ..Lord Andreas, Duke of Little Egypt, and a hundred men, women, and
              children, came to Deventer in the Low Countries; and aldermen had to
               pay 19florins 10 placks for their bread, beer, herrings, and straw, as well
              as for cleaning out the barn in which they lay. FHG
1421      At Tournay, 'Sir Miquiel, Prince of Latinghem in Egypt,' received twelve   
             gold pieces, with bread and a barrel of beer.   FHG
 1422     Gypsies in Bologna, Rome.    jpc 
 
             "Andrea, Duke of Egypt" rested on July 18, at Bologna before going on via
              Forli to Rome for an audience with the Pope. Also a large horde with 50
              horses led by one Michael arrives at Basle, before going on to Italy, Alsace
              and France. jf  

             ...the Chronica di Bologna tells how 'the 18th of July a duke of Egypt,
              Duke Andrew, arrived at Bologna, with women, children, and men from
              his own country.  There might be a hundred. This duke having denied the
              Christian faith, the King of Hungary (Emperor Sigismund) repossessed  his
              lands until The duke and his men (about 4000) decided to rebaptized.
              (Any who refused  were put to death.)  The King of Hungary then
             commanded   them to travel about the  world for seven years, to go to
              Rome to see the pope, and then to return to their own country.When
              they  arrived at Bologna, they had been journeying for five years, and
              more than half of them were dead.
    They had a mandate from the King of Hungary, the Emperor, permitting
    them during these  seven years to thieve, wherever they might go,
    without being amenable to justice.
 
    At Bologna they lodged themselves inside and outside the Gate of Galleria,
    and settled themselves under the porticoes, except the duke, who lodged
    at the King's Inn (Albergo del Re).

    They remained a fortnight and many people sought out the duke's wife,
   who was suppose  to be able to accurately fortell the future. and of those
   who wished to have their fortune told, few went to consult without 
   getting their purse stolen, and the women had pieces oftheir dress cut
   off....So it was cried through town that no one should go to see them under
   a penalty of fifty pounds and excommunication, for they were the most
   cunning thieves in all the world....they left Bologna and went off towards
   Rome. 'Observe that they...were lean and black...their women went in
   smocks, and wore a pilgrim's cloak across the  shoulder, rings in their ears,
    anda long veil on their head...' 
              On 7th August the same band, now swelled to two hundred, arrived at
              Forli, where, writes the city  chronicler,' some said they were from
              India.' Vatican archives may confirm an audience with Pope Martin v.; but
              all we know is that later in this same year the 'cunning and lazy strange
              people called Zigeiner,' led by Duke Michael, were back Switzerland with
              papal as well as imperial safe-conducts. FHG
1424 and 1426  The thirty tented Cingari or Cigawnar, who encamped near
                Ratisbon in , seem to have belonged to Hungary. Their leader had also a
               safe-conduct granted him at Zips on 23rd April -1423 by Emperor 
               Sigismund, and styling him 'our faithful Ladislas, Woiwode of the Cigani';
               and they gave out a different reason for their exile:'in remembrance of
               the flight of our Lord into Egypt.' The four hundred would-be pioneers,
               then sent forward to spy out the lands of promise on behalf of vast
               hordes behind, who in 1438 began  to pour over Germany, Italy, and
               France by  thousands instead of by hundreds, and headed this time by
               King Zindl.   FHG 
1427    Gypsies in Paris.   jpc    .
1428   ..in August, there appeared outside Paris, then held by the English, a hundred
    men, women, and  children, 'good Christians from Lower Egypt, who were
    headed by a duke, an earl, and ten other horsemen. They told how the pope
    ...gave them a penance to wander seven years without sleeping in a  bed,
    and letters enjoining every bishop and nitred abbot to make them one
    payment of ten livres tournois.'

   The Bourgeois of Paris, whose Journal records this visit with a Pepys-like
   fidelity, describes how multitudes 'came from Paris, from Sainct Denis, and
   from the neighbourhood of Paris to see them.  And it is true that the children,
   boys and girls, were as clever as could be. And most or nearly all had both ears
   pierced, and in each ear a silver ring, or two in each, and they said it was a
   sign of nobility in their own country. Item the men were very black, their hair
   was frizzled; the women, the ugliest that could be seen, and the blackest. All
   had their faces covered with wounds, hair black as a horse's tail, for sole
   dress an old blanket, very coarse, and fastened on the shoulder   by a band of
   cloth or a cord, and underneath a shift, for all covering....
        But in truth I went there three or four times to speak with them, yet never
   perceived that I lost a penny, nor did I ever see them look into a hand. But
   people said so everywhere, and it came to the ears of the Bishop of Paris,
   who went there, and took with him a Minorite friear called Little Jacobin.
   And he, by command of the bishop, made a fine preaching, excommunication
   all who had believed them and shown them their hands. And they were
   obliged to depart, and departed on the day of Our Lady of September, and
   went away towards Pontoise.'   Three weeks later, at Amiens, Thomas, Earl of
   Little Egypt, with  forty followers, received pious alms from the mayor and
   aldermen after exhibition of the papal letters;  
FOR THE NEXT SEVEN  YEARS; we find similar scattered bands of Egyptians, Saracens from Egyptm or Heidens, at Tournai, Utrecht, Arnheim,Bommel, Middelburg,  Metz, Leyden, Frankfort, etc. These  according to M. Bataillard, all
belonged to the original band, some four hundred strong, which split up orreunited as occasion required, and which had probably started from the Balkan peninsula. FHG 
1428    Arrival documented in Switzerland.  7 
1430    (or 1440)Gypsies in Wales.    jpc 
1438    King Zindl's thousands of Cingari or Cigawnar from Hungary begin to pour
           over Germany, Italy and France.  FHG 
1447    Gypsies in Barcelona.  jpc 
            The Gypsies reached Spain   FHG 
1449    Gypsies driven out of Frankfurt-am-Main.  8
1460    James II  initiated a proclamation, bearing, that whoever should disperse
     the company of gipsies or Saracens from Ireland who infested the county of
     Galloway in Scotland should have the Barony of  Bombie for reward. (it is
     likely that the crest of the McLellans is the depictation of the head of a
      Gipsy  chief. 'Think on' is the motto.)   ws   (p98-99)
1489-1579   Despite the prejudice toward them, the Roma (Gypsies) were a strong
      presence in Bulgarian  towns and villages. Households ranged from 11-529. 
      dmc   (p3) 
1492 (or 1505)   Gypsies in Scotland .  Almost all Scottish Gipsies assert that their
            ancestors came by way of Ireland. On the publication of the edict of
            Ferdinand of  Spain, some of the Spanish Gipsies would  likely pass over to
            the south of Ireland, and thence find their way into Scotland  before 1506.
            Anthonius Gawino is almost certain to be a Spanish name, it is safe to
            assume that the Gipsies of Scotland are of Spanish Gipsy descent.
            Ws (p98-99)
     
1496-98   Gypsies accused of being foreign spies, carriers of the plague, and
              traitors to Christendom at the Reichstag meetings during these years in
               Freiburg and Landau.  9 
1498    New anty-Gypsy laws issued by the Freiburg Diet.  10
---
1500
---
1500     Gypsies in Russia.  jpc 
 1501     Gypsies in Poland and Russia  FHG
1505     In Scotland the accounts of the Lord High Treasurer for April 22, Item; the
      Egyptianis be the  King's Command,   vij lib.';
             3rd July James IV gave Anthonius Gagino, Earl of Little Egypt, a letter of
             commendation to the King of  Denmark;  FHG
 1506    James IV of Scotland wrote a letter to  the King of Denmark, in favour of
           Authonius Gawino, Earl of Little Egypt, a Gipsy chief.     ws   ( p98) 
1509     Gypsies in Poland.  jpc 
1512    Gypsies in Sweden FHG 
1514    Switzerland encourages "Gypsy Hunts" among its citizens as a means of
           urging Gypsies to leave this country.  13
            The earliest certain mention oftheir presence in England is this chance
            allusion in A Dyalog of Syr   Thomas More, knyght(1529)bk.iii.ch.xv. when
            the king sent the lords to inquire into the death of Richard Hunne in the
            Lollards' Tower, and a eitness appeared who suggested that an  Egypcyan,
            lodged at Lambeth" had the power to divine who the murderer was by
           "looking into one's hand".  FHG
1515    Gypsies in Sweden.  jpc  
1522     the churchwardens of Stratton in Cornwall received twenty pence from
      the'Egypcions' for the use of the church house; and between 1513 and
      1524  Thomas, Earl of Surrey  entertained 'Gypsions' at his Suf  folk seat,
      Tendrin Hall. (seeGypsy Lore Journal,i.5-24) FHG
1530    In Scotland; 'Egyptianis that dansit before the king in Halyrudhous' received forty shillings 
      FHG
1531    The Augsburg Reichstag forbids Gypsies the use of travel documents in order
      to make reentry  impossible  once banished.  15 
1540    Gipsies in Norway.  jpc2
            Feb. 15, James V of  Scotland entered into a league or treaty with "John
            Faw, Lord and Earl of Little Egypt" at Falkland.   ws   (p101-103)
            May 26, Johnne Faw, lord and erle of Litill Egipt,' to whose son and
            successor, Johnne Wanne, he  (James V) granted authority to hand and
            punish all Egyptians within the alme...FHG
1541-1542 Act of the lords of council demand that gipsies depart the realm of
             Scotland within XXX days or be put to death. James V died in 1542.
             ws p107

1541-1542 Three separate kingdoms emerged in the former Hungarian empire.
              Royal Hungary, centered in Slovakia, was under Hungarian control, while
              two new provinces in central Hungary and Transylvania emerged under
              Ottoman control. In Royal Hungary, Gypsies were increasingly seen as spies
              and some thing of a Turkish fifth column, which caused them to be
              increasingly subjected to restrictions on their lifestyle and trade.  Though
               still valued for their smithing skills, particularly by the military, these
               efforts to regulate the Roma eventually forced them to adopt a nomadic
              way of life ..The plight of the gypsies in Wallachia and Moldavia is the
               worst example of mistreatment of this group since their entrance into 
               the region. Implemented centuries earlier to ensure the ready availability
              of their unique skills, the practice of Gypsy slavery evolved into an
              abusive system that treated the Roma as no more than cattle 
              .dmc pxi-xii. 
1543   In Scotland, Hamilton, Earl of  Arran, then regent during the minority of
    Queen Mary re-establishes the arrangement with John Faw and once more
    Gipsies are allowed to control and punish their own  people. 
1559   In Scotland during the noneth of May and June, the whole body of gypsies
    were of lod accustomed to gather in the stanks (marshes) of Roslin  every
    year, where they acted several plays.. FHG
1566    Fredinand I maintains expulsion and extermination orders; two Gypsies are
     drowned in the Elb for violating this order in Dresden.  16
 1568   Pope Pius V banishes all Gypsies from the Holy Roman Church.  17
 1579   King James VI rules Scotland parliment approves act against strong and  idle
           beggers,vagabonds,and Egyptians. But the are seldom  enforced.  ws          
          Augustus, Elector of Saxony, confiscates Gypsies' travel permits and banishes
          them from the state.   18
1580    Governments encourage Gypsy hunts in Switzerland, The Netherlands, and
           Germany.  19 
---
1600
---
1600    Scotland orders the whole race to leave and not return under penalty of
           death.  ws   (p111)   
  1609    Scottish law makes it lawful to condemn and execute gipsies upon proof
            made of the single fact 'that they are called, known, repute and holden
            Egyptians'   ws   ( p112) 
1652   Townspeople in Bautzen are fined by the local magistrate for doing business
           with Gypsies.  20
1659  Mass murder of Gypsies in Neudorf, near Dresden.  21
1661   Elector Johann George II of Saxony imposes death penalty on Gypsies found
         in  his territory. "Gypsy hunts" instigated as means of exterminating Gypsy
          population.   22  
SOURCES 
GLSJ=Gypsy Lore Society Journals 

NGS=National Geographic Society (Gypsies Wanderers of the World.     by Bart McDowell.) 
 CGL=Gypsy Sorcery and Fortune Telling,   by Charles G. Leland. 
1-22=Gypsy History in Germany and Neighboring Lands by Ian  Hancock. (The Gypsies of Eastern Europe by Crow and Kolsti.)  
JPC=The  Gypsies   by Jean Paul Clebert.also:  The Timetables of History,   by Bernard Grun. 
JPC2=Les Tzigznes,  by Jean-paul Clebert.  
JF=The Gypsies in Poland,   by Jerzy Ficowski, .(Interpress Punlishers)  
DMC=A History Of The Gypsies Of Eastern Europe And Russia,    by Kavid M. Crowe(StMartin's Press,NY) 
JBM=Gypsy Lifestyles,   by  John B.McLauglin  .(Lexington Books) 
WS=History of the Gipsies,   by Walter Simson 1878. 
JY= The Gypsies   by Jan Yoors 
FHG=Gypsy Folk-Tales   By Francis Hindes Groome   (ArnoPress, NY 1977)
---
---
---
THE WORLD'S OLDEST DANCE:
The Origins of Oriental Dance
By Karol Henderson Harding
a.k.a. Cala of Savatthi
 This FAQ researches the various times and places throughout history where eastern dance, especially any form of eastern dance which influenced what was to become "belly dance" occurred.  The printed version is available from the society for Creative Anachronism (Order as Creative Anachronist #70) The illustrations mentioned are available in the printed version.
The author of this publication also has a large number of black and white drawings scanned as tif files of various oriental dancers and motifs. These are available from [email protected] ; contact for more info.
    "Cala" has been an oriental dancer for over 8 years, and has written for several ethnic dance magazines, including: Habibi, Jareeda, Mideast Dancer, and Shimmy Chronicles.  She is also active in the Society for Creative Anachronism.  She also conducts various artistic and costuming endeavors under the name "Joyful Dancer".
METHODOLOGY: By documenting the many places and times when professional 
entertainers were an integral part of eastern societies, as well as places where music 
and dance are used as therapeutic devices, I hope to show that Eastern dance has an 
ancient and complex history, with many possibilities for re-creation in the Society of 
Creative Anachronism.  In fact, part of the problem in researching any type of eastern 
performance art or persona is that it involves so many different cultures, and has 
developed in so many different forms.  But, in spite of all this, there is still something that 
can be readily identified as "belly dance". Research also reveals that it is 
impossible to completely separate the history of "belly dance" from Gypsies, 
Spanish dance, Indian dance and Persian dance---hence, the comprehensive 
view of this report.
      The dance which Americans know as "belly dance" has gone by many names. The French who found the dance named it "dance du ventre", or dance of the stomach. It is known in Greece as the cifte telli (also the name of a Turkish rhythm), in Turkey as rakkase and in Egypt as Raks Sharki.  Middle Easterners also call it "danse orientale" to distinguish it from the "balady", or country, dance.  It developed through the influence of many different areas and continues its long process of development today. After its appearance at the Chicago Exposition at the turn of the century, Americans discovered it, and the French name, danse du ventre, was translated into the "belly dance". In this report, "oriental dance" and "belly dance" will be used interchangeably.  "Eastern dance" as used here can include belly dance, Indian dance, or Persian dance.
      This improvisational, and uncodified form of dance is, nonetheless, a form of dance distinctly different from the many forms of "folk dance" which developed in the same areas. Across borders and cultures, "belly dance" is recognized as a dance style of its own.  There are several points that make oriental dance different from other dance forms and reveal its diverse heritage:

1.  It has traditional associations with both religious and erotic elements. This ambiguity has caused belly dance to be disdained, scorned, and loved by many. Its apparent origins are the fertility cults of the ancient world.

People have always endowed their gods with human frailties, and thus these deities had to be appeased with the best of their possessions: the fruits of the field, the fatted calf, and even human beings.  The fertility cult in particular existed in all ancient civilizations.  
The great Mother Goddess appears under different names such as Mylitta, Isis, Ashtoreth, Astarte, Ishtar, Aphrodite, Venus, Bhagvati, Parvati and Ceres. The function of these goddesses was reproductive, not just in the limited sense of human beings, but in the greater sense of the planet itself.  They ensured the cycle of the seasons which regulated the growth of crops.  They were responsible for the increase of livestock and the perpetuation of the race.  The well being of the city and the countryside depended upon the goodwill of the regional mother goddess.  None of these goddesses were celibate because it ran counter to their function.  Neither were her priestesses necessarily expected to be celibate.  Since the reproductive functions of the goddess were symbolized in the human female's reproductive organs, it must have seemed very natural to give the goddess the gift of a girl's service and virginity.

Thus began the practice of temple prostitutes, who were honored citizens in their day and time. There is ample evidence in the writings of Socrates, Apollodorus, Plautus, Arnobius, Justin and Eusebius of sacred prostitution in the Middle East, West Asia, Greece, Cyprus, Egypt and North Africa.  Girls might be sent to the temple as the result of a pious vow; sometimes it had a double aim, namely that of serving the deity while earning their marriage portions. Sacred dancing would also have been an integral part of their duties, particularly a type of dance which featured the abdomen, source of the Goddesses' fertility.

In Egypt today, it is still the custom for the bride and groom to hire a belly dancer for their wedding, and to take a picture with their hands on the belly dancer's stomach.  This is an obvious reference to the dance's relation to ancient fertility cults. As if there were any doubt on this score, the dancer scholar and performer, Morocco, reports making the acquaintance of a Saudi Arabian woman who arranged for her to take part in a Berber tribal birthing ceremony, reminiscent of ancient times.  (Morocco had to pretend to be the unfortunate mute serving girl of her benefactor in order to pass inspection.) The women gathered in a tent, while the men waited outdoors.  A hollow was dug in the ground, where the mother-to-be sat.  She was surrounded by concentric circles of women who danced with repeated abdominal movements while the woman gave birth.

The same Saudi woman found it highly amusing that the LaMaze "birthing classes" taught the same movements to be found in the timeless art of belly dance. The dance itself was considered by these women to be sacred, and not intended to be seen by men at all. Armen Ohanian, a persian dancer of the nineteenth century, who was a Christian Armenian, wrote of her horror at seeing the debased form of the dance for the first time: "In the true Orient, the most depraved man venerates instinctively in every woman the image of her who gave him birth.... In this olden Asia which has kept the dance in its primitive purity, it represents maternity, the mysterious conception of life, the suffering and the joy with which a new soul is brought into the world."

2.  It is traditionally danced barefoot.  There are other forms of dance which are done barefoot, but most do not meet all of the criteria which will be mentioned.  One relevant form is Spanish dance in the Moorish style.  Most Flamenco dance is done with shoes on, but the long history of domination by the Moors, an Eastern conqueror, left a dance form was performed barefoot. In modern times, some famous Egyptian dancers perform in high heels as a way of showing their audiences in a very poor culture that they can afford to wear shoes.  This does not affect the traditional reason that dancers danced barefoot: namely, because it connects one directly to Mother Earth.

3.  Belly dance grew out the traditions of eastern music.
Although modern belly dancers use music which is western-influenced to varying degrees, the rhythmic influences of near and middle eastern music created a music form that is fundamentally different from that which developed in the west.  As musician Ishaq ibn Ibrahim (767-850 A.D.)  said, "He who makes a mistake is still our friend; he who adds to, or shortens a melody is still our friend; but he who violates a rhythm unawares can no longer be our friend."  Curt Sachs explains that the difference lies in the total absence of harmony in eastern music.

Western music came to depend upon the natural sense of tension and relaxation, a regular rhythm of in and out, and melodies which built upon a progression of chords. Eastern music, however, relies on the rhythms which lead the melody and lend variety to the patterns.  Whereas the even flow of western music relies on changes in tempo for variety, the eastern musician hardly mentions standard tempos of music.  In addition, eastern music typically begins with an arrhythmic, or free rhythm introduction known as "taqsim" (or division).  Vocal music in the east is allowed complete freedom from standard tempo or rhythm when not accompanied by a rhythm instrument.  Moreover, Sachs adds, western rhythms are multiplicative or divisive whereas eastern rhythms are additive.  This means simply that western rhythms break down evenly into so that a 4/4 is twice as long as a 2/4. By contrast, Eastern rhythms are a series of smaller patterns strung together and cannot be evenly divided as in the following examples: 3+2+2=7, 2+2+2+3=9, 4+3+3=10.

4.  The dancers often use some type of rhythm instrument to aid the musicians, or as the sole accompaniment to their dance.  Spanish dancers also do this, but there is evidence of a common heritage for these dance forms through association with Gypsies and early Phoenician traders. The earliest dancer's finger cymbals made of metal are those found in the area of Thebes (c.200 BC) with a large central boss and upturned rim, measuring 2-7/16" in diameter. A slightly larger pair was also attributed to Thebes (c.200 BC) with a diameter of 3-3/8". These are more correctly called "crotales", (or krotala) meaning a small bronze cymbal.  They were also mounted in sets on stick handles as clappers.  However, one of the Thebes sets, as well as a set found in Pompeii (50 AD) are connected with a cord or chain approximately 2 and 1/2 cymbal's diameter in length. This is a critical measurement because this short a cord is awkward to play with two hands.  In modern cultures such as Thailand, where the cymbals (ching chang) are still the major rhythm instrument, it is played by a seated musician with two hands and a much longer cord.  With shorter cord a dancer could wrap it about one or more fingers and have a pair on each hand. There is, however, a form of pair cymbals with the shorter string still in use in folk dance in India, where they are called manjira.

Scholars have tried to say that all of these ancient crotales were mounted on a stick if they were not of the type which had a raised portion for holding them on top (to be struck with two hands).  However, by actually connecting a pair of cymbals in this manner it is apparent to any dancer that by placing the string over the middle finger, or middle two fingers, one can shake them rhythmically. I have found no surviving ancient pictures to support this theory, but it is known that castanets, with references to metal castanets, were used in ancient Greece.  Some pictures are available of Roman style dancers with a type of rhythm instrument worn in pairs on the fingers, as in fig. 1.

Whatever these instruments might have been, according to the Greek poets, they were no tinkling delicate instruments.  A hymn to the goddess Diana says, "My comrade strikes with nimble hand the well-gilt, brazen sounding castanet".  Euripides uses castanets as the epitome of noise when he has Silenus rebuke his companions, "What's the uproar? Why this Bacchus hubbub?  There's no Bacchus here, no bronze clackers or rattling castanets?"

It is said that Spanish Gypsies, who are traditionally associated with the spread of eastern dance, did not originally use castanets, moving with "easy, undulating 'filigranos' (soft movements of the arms and hands), reflecting his eastern ethnic heritage. The early gypsies felt no need for devices beyond their own innate, rhythmic hand clapping (palmadas), finger snapping (pitos), clicking of the tongue, and often tapping of a stick (b culo).  These sounds were further embellished by the shouts (gritos) and expressions of animation that conjured the magic (duende) of the moment." However, even though gypsies have taken up the use of castanets, many still play them in the primitive manner, on the middle finger instead of the thumb.  Thus, references to "metal castanets" are more logical than it might appear at first; and they leave serious confusion as to exactly what these instruments were and how they were played. Modern finger cymbals are played with a cymbal on each middle finger and thumb, as in fig. 8.


Click to add text, images, and other content
 wire. Few remains of ancient wire work have been found. This net would certainly have qualified as "transparent", as shown on the tomb pictures.
THE FIREBORN CHRONICLES

read excerpt
THE FIREBORN CHRONICLES: REVELATIONS --read excerpt
SPECIAL OFFERS FROM THE PUBLISHER:
JOIN MUSEITUP PUBLISHING READERS GROUP
Want to know more? Join MuseItUp Publishing Readers Group
This group is for readers to mingle and network with our authors. Here we'll host upcoming events, excerpts, reviews, and tons of goodies throughout the year:
ALL DAY, ALL NITE WRITING DIVAS BLOG
Imagine a multi-genre blog where all the participants
are named Mary, Ann, or Marianne... Let the party begin!
(Check us out.)


my blogs:
     2011
Aug.THE BIG PICTURE
Sept.BLASTS FROM THE PAST
Oct: HAPPY HALLOWEEN!
Nov:REALITY CHECK 
Dec:THE TIES THAT BIND
     2012
Jan:NO MATTER WHERE YOU
        GO, THERE YOU ARE
Feb:THE SECRET TO SUCCESS
         IN THE WORKPLACE
THE 2012 CATHOLIC WRITER'S CONFERENCE

.
HAS ENDED BUT WILL HAPPEN AGAIN NEXT YEAR.

The free online conference had a new format this year:
March 17-24 there were FORUMS open 24 hours a day.
March 23-31 there were scheduled one-hour moderated chats on a variety of topics as well as pitch sessions and prayer sessions.
Attendees do not have to be Catholic and there will be openings for next year's presenters. I doubt it's ever too early to check into it. AND, the site itself has some interesting resources as well.

Find more info at http://catholicwritersconference.com/ 
REVISIT MUSEITUP PUBLISHING'S ONLINE BLOG CONFERENCE FOR WRITERS
I am currently the Director of the Write Right Critique Group, which has been in existance for over 20 years. Our membership includes both novice writers and published authors of all genres.
The WRCG-online Yahoo group is designed to share information, links, promotions and all things writing. It is open to all at this site:

Join my Yahoo Group
   CLICK ON LOGO